Our Communities
The beautiful falls on the Mississippi River attracted native inhabitants, explorers, traders and settlers. By the 1880's a surge in immigration, railroad expansion and industrial development created a boom. In 1889, Little Falls was incorporated as a city. It is the third oldest city in the state. Due to local brick-making industries, by 1890, large brick buildings replaced the former wooden storefronts. Within a two-year period the population had doubled, reaching 4,699.
Major industries that contributed to the growth of Little Falls were the Pine Tree Lumber Company, Hennepin Paper Company, and two large flour mills. Smaller industries included the Kiewel Brewery, a sash and door factory and a horseshoe factory. Carpenters, cigar manufacturers and blacksmiths were among the numerous tradesmen setting up shop. A major contributor to the economic growth of Little Falls was the surrounding diversified farming. Also evident was a vibrant social and religious community.
When the lumber and flour milling industries declined, others sprang up. Most notable was boat building, which began with the Larson Boat Company, in the 1920's. Boat building was the driving force in Little Falls' industry for nearly 100 years. The City of Little Falls continues to grow with new and innovative, startup companies. Little Falls is home to Hoonuit, an international software company; Lakemaster, a lake mapping software company; AirBorn Inc, a specialty connector company; Wabash National, a leading refrigerated trailer company; Falls Fabricating, a metal fabricating facility; DJ Products, a power trailer moving manufacturer; Mielke Oil, a lubricant and fuel distributor; and Little Falls Machine, a nationally known plow manufacturer. The growth of Little Falls continues, thanks to the early entrepreneurs whose vision gave it impetus.
Little Falls Industrial Park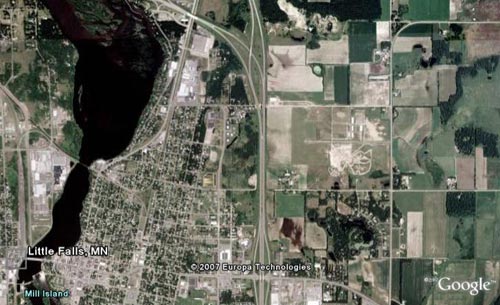 Little Falls
Population
Population
Growth Rate
-0.28%
Housing & Income
Income Projection
Median Household
$52,355 $59,525
Average Household
$74,416 $84,538
Per Capita
$32,672 $37,360
Quality of Life
Our teachers are highly educated and highly trained, nearly half of which have masters degrees and bring an average of 17 years in education to the classroom. Our district is larger then 75% of school districts in the state and offers "big District" programs and opportunities for students through a personalized community environment. Please view the complete list of education facilities below. For information on Little Falls Public Schools visit www.lfalls.k12.mn.us. For information on Mary of Lourdes Schools visit www.molschool.org.
---
Local Public Information, ISD #482
Elementary:
Charles Lindbergh Elementary
101 9th Street SE
Little Falls
(320) 616-3200
DR. S. G. Knight Elementary
504 East Minnesota Avenue
PO Box 69
Randall, MN 56475
(320) 616-5200
Lincoln Elementary
300 6th Street SW
Little Falls
(320) 616-6200
Middle School:
Little Falls Community Middle School
1000 1st Avenue SE
Little Falls
(320) 616-4200
High School:
Little Falls Community High School
1001 5th Avenue SE
Little Falls
(320) 616-2200
Other:
Continuing Education Center (CEC)
116 8th Avenue SE
Little Falls
(320) 632-4159
Community Services
14800 Riverwood Drive
(320) 632-7938
www.lfalls.k12.mn.us
St. Francis Music Center
116 8th Avenue SE
(320) 632-0637
www.sfmusiccenter.org
Local Parochial Information
Elementary:
Mary of Lourdes Elementary School
307 4th Street SE
Little Falls
(320) 632-5408
Middle School:
Mary of Lourdes Middle School
205 3rd Street NW
Little Falls
(320) 632-6742
Workforce
2023 HealthCare/Social Assist
Businesses
68
Employed
1,140
2023 Retail Trade Businesses
Businesses
80
Employed
1,111
2023 Public Administration
Businesses
41
Employed
1,063
2023 Educational Services - Businesses
Businesses
19
Employed
678
2023 Other Service excl Pub Admin
Businesses
75
Employed
636
2023 Manufacturing Businesses
Businesses
18
Employed
628
Average Commute Time
0 min.
Resident Commuters
2,849
Non-Resident Commuters
1,167
Workforce Occupations
Little Falls is home to a diversity of industries: military, boats, health care, mail processing, sheet metal/welding, snowplows and conveyors, wood products, food processing, monuments, tool and die, technology, ethanol and more. For additional information view the Little Falls Workforce information available on the MNPRO website, designed by DEED.
Transportation
Highway Information
Interstate:
I – 94
40 Miles from Community
Four Lane:
Other:
Air Service Information
International Service:
Minneapolis/St. Paul International Airport
Location: Bloomington
Miles to: 100
Longest Runway: 10,000 Feet
Lighted: Yes
Service Type: Charter, Commercial, Freight, Jet
Major Airlines: American, Continental, Delta, Northwest, TWA, United Airlines, US Air
Local Service:
Morrison County Municipal Airport
(320) 632-2413 or (320) 616-5525
Location: Little Falls
Miles to: 2
Longest Runway: 4,000 Feet
Lighted: Yes
Regional Service:
St. Cloud Regional Airport
Location: St. Cloud
Miles to: 30
Longest Runway: 5,200 Feet
Lighted: Yes
Service Type: Charter, Commercial, Freight, Jet
Major Airlines: Mesaba, Northwest Airlink, US Air
Ground Transit Information
Little Falls Taxi
12988 Highway 27
(320) 632-4104
Airport Shuttle Service
3358 Southway Drive, St. Cloud
(320) 253-2226
Greyhound Bus Lines
Fare & Schedule Info (800) 231-2222
Local Terminal (320) 632-3823 (McDonald's)
Train Service
(800) 872-7245
Med – Cab (Disabled Transportation)
111 5th Street SE
Little Falls, MN 56345
(800) 232-8530