Great River Arts has busy September planned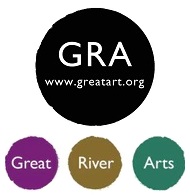 31 Aug 2023
Community, News, Education, Economic Development
This month there are plenty of activities happening at Great River Arts (GRA) in Little Falls.
For adults, Thursday, Sept. 14, from 5 p.m. – 7:30 p.m., a sip and paint class will be offered at the Linden Hill Gardens. This month, the group will be painting a colorful peacock.
Participants should arrive at Linden Hill, Musser Mansion (white). Beverages and snacks will be available for purchase from Linden Hill. Class starts at 5:30 p.m. This class is limited to 14 participants. Preregistration required.
On Sept. 24, from 10:30 a.m. – 1 p.m., people have the opportunity to create fall inspired art on a gel plate. Artist Patricia Lintner, will guide participants through the basics in mono printing using stencils, unconventional textures and botanical elements on a gel plate, creating beautiful fall pieces.
This class is open to ages 16 and older with a minimum of six students and max of 14.
This month GRA continues Adult Open Ceramics Studio classes Sept. 14, 15, 21, 28 and 29, from 5 p.m. – 7:30 p.m. This program is open to ages 16 and older with a class size limit of eight. This program offers time to work in the studio to practice and play with clay. Preregistration required.